Services - Inspection Services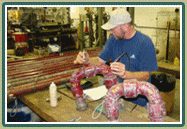 Visual:
A complete visual of the inside bores of all flowline equipment; all end connections, seal surfaces, and other surfaces for wear and damage.
Ultrasonic Wall Thickness Measurements:
Wall thickness measurements are taken at multiple locations on each piece of equipment to check for erosion and to verify acceptable minimum wall thickness.
Magnetic Particle:
Magnetic Particle test is performed by electrically inducing a magnetic field in a component and than applying particles in a wet format. The magnetic field causes the particles to align over the surface of the component along the lines of magnetism. Any indications of cracks will show as a fine line. All MPI inspection is done with a qualified CGSB Inspector.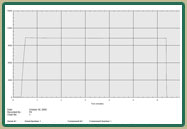 Hydrostatic Pressure Test:
All equipment is pressure tested to its maximum working pressure and documented on a chart. As of June, 2007, all Quincie charts are digitally generated, resulting in a cleaner chart than the circular charts. All pressure testing is done in a solid steel enclosure to ensure the safety of staff and equipment.

Click here to download a Sample Chart.


Identification and Banding:
All equipment will be identified with stainless steel bands with Serial Number and Pressure Rating.
Repairs:
Quincie has the qualified staff available to make any and all repairs, as required, to ensure that upon completion of inspection, all equipment is ready to go back into service.
New Equipment:
With a full line of flowline equipment on hand. Quincie is able, at the customer's discretion, replace any failed equipment in order to ensure that your unit is complete with all necessary equipment.
Inspection Reports:
All inspections are posted to Quincie's Iron Management System website. We can also provide paper and/or CD-Rom reports. These reports are filled with such information as:
Date
Location
Unit Number
Inspector
Equipment and Calibrations
Type of Equipment Inspected
Serial Number (both customer's & manufacturer's, when applicable)
Visual Inspection
Ultrasonic Wall Thickness Information
Magnetic Particle Information
Failed Iron Summary
New Iron Summary
Repair Summary
Pressure Test Charts
With all the information added to the Iron Management System website, you can view your Inspections from the office or out in the field, 24 hours a day, through Quincie's web page.